Natural and model biofilms on surfaces
Biofilms are bacterial cell assemblies of microorganisms on surfaces of natural systems and materials and are therefore ubiquitously present in the environment. As biological filters, they can be part of large-scale treatment processes. They remove dissolved, biodegradable substances from the environment, transform or mineralize them and form locally immobilized biomass. However, biofilms also represent a reservoir of germs, from which contamination with hygienically relevant bacteria can possibly arise.

For population analysis, molecular biological methods provide information about the composition of the biofilms, as well as their spatial and temporal variability. Target molecules in these techniques include regions in the genome (e.g. rDNA), which are present in all organisms regardless of their physiological status. With the help of molecular biological analysis methods, developmental stages of the biofilms can be identified by the expression of specific genes in the bacteria involved. Even bacteria that can no longer be cultivated, but are still alive and capable of reproduction, can be detected.

The influence of natural materials or modified surfaces on biofilms is investigated in different research approaches. In cooperation with various working groups from the BioInterface program and other KIT working groups, the modification of surfaces and their influence on biofilm growth is investigated.
Workig methods
PCR-DGGE / SSCP Analyses of taxanomies

Gene expression analyses for the detection of adhesins, Stress answers, Quorum sensing regulators

Fluorescence In Situ Hybridization (FISH)

Quantitative methods for determining bacterial species or groups (RealTime PCR)

Species identification by sequencing (capillary electrophoresis)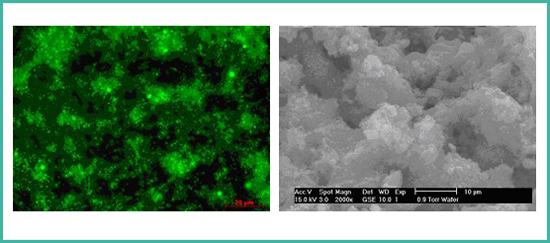 Natural biofilms after staining with the DNA-binding fluorochrome Syto9 (left; A. Rieder, IFG) and ESEM image (right; F. Friedrich, IFG)